Zi Xu is a Chinese-American poster and cover artist living in New Jersey, USA. After graduating from MICA, she started working on official and officially licensed work for films, games, and comics.
Some of Zi's biggest clients include Adobe, DC Comics, and Marvel, with the highlight this year being her work on Disney's Star Wars day mural .
Zi and I will discuss how to best deal with criticism, highlight a couple of great movies, and walk you through some of her favorite digital art techniques.
---
Hi Zi, it's great to have you here with us today! We're all eager to learn more about you and your work, so tell us, what's your story?
Hello! Thank you, I'm really excited to be interviewed on Perephoneia!
My name is Zi Xu, and I'm a Chinese-American poster illustrator currently located in New Jersey, USA. I graduated from the Maryland Institute College of Art in 2018 and received a BFA in Illustration and Art History.
Now I work as a poster illustrator and cover artist, creating official and licensed artwork for films and entertainment. Being able to do the thing I love for a living is a real privilege, and sharing it with others around the world brings me a lot of joy.
What's life like for an artist living in New Jersey?
I was born on the island of Hainan in China, but my family immigrated to New Jersey when I was 5, which is where I've lived most of my life.
I'm going to be completely honest: while peaceful, NJ is actually quite uneventful! I'm close enough to New York City that I often go to hang out with friends and such, but I'm actually looking to move to sunny California soon to be nearer to the entertainment industry.
I've always been rather envious of artists who live in more "exciting" locations, but I think NJ has instilled a sense of wanderlust in me (if only to get away from the state, haha!)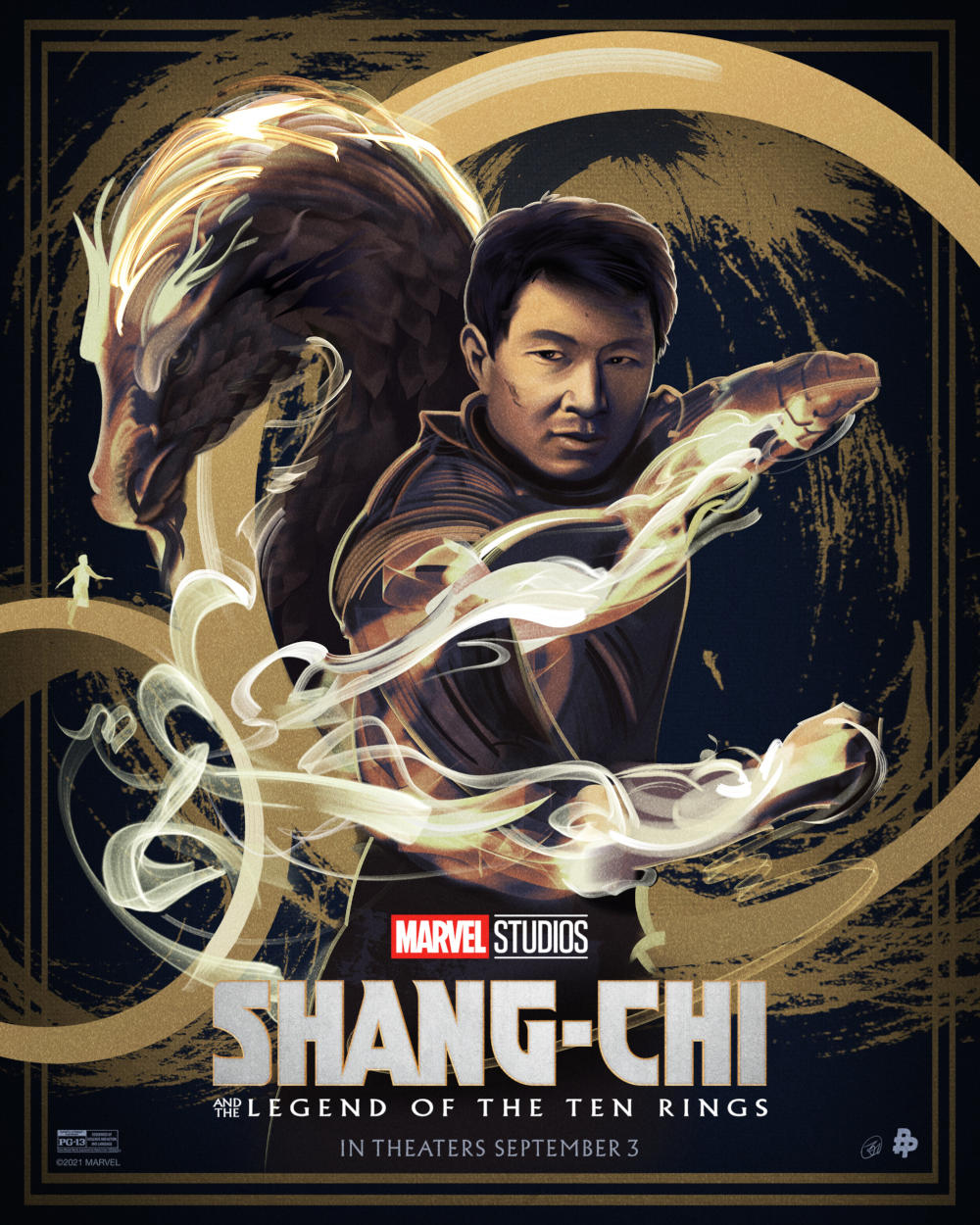 When did you first realize you wanted to make art for movies?
I've been drawing my entire life, but it was around halfway through college when I realized I wanted to go into movie poster illustration.
My biggest goal back in high school was to become a concept artist or visual development artist for games and film. I took a few classes for it in college, but they ended up burning me out so severely that I actually developed chronic pain for a few years!
I realized that what I really loved about concept art was the sense of imagination it instilled in me to use for my own works… I just don't have the desire to create it for other people in the long term.
This is also when I began watching a lot more movies and ultimately fell in love with the medium. I did some self-introspection and discovered that I didn't like working "behind the scenes" at all (which is what concept art is)—I wanted to make artwork that could be printed big and that people could see as promotional material in theaters or on the internet.
After discovering that part of myself, I became really set on that goal and developed a portfolio full of mock movie posters for my thesis. I slowly found my way into the industry by networking on social media with other poster illustrators and designers and eventually found a mentor as well as an agent that could represent me in this field.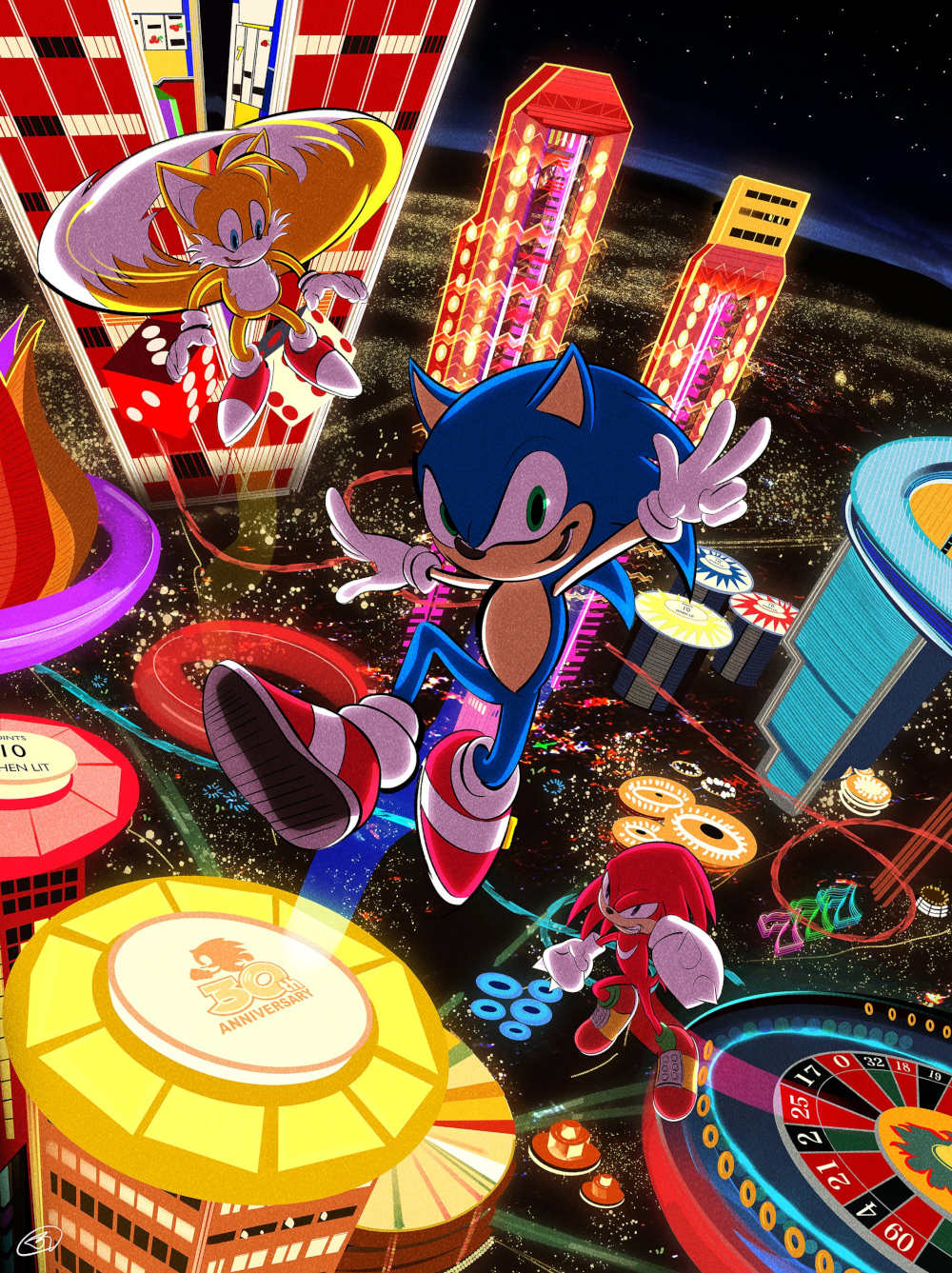 Your mural for the Star Wars Day takeover on Disney+ is breathtaking! It's also a pretty complex scene, so I'm curious about some of the challenges you faced working on that project. Can you tell us something about it?
Sure! The biggest challenge was the tight deadline and knowing that my mural would be shown to millions of people on Disney+ worldwide. I had to mentally prepare myself for the amount of attention (good and bad) that was thrown my way.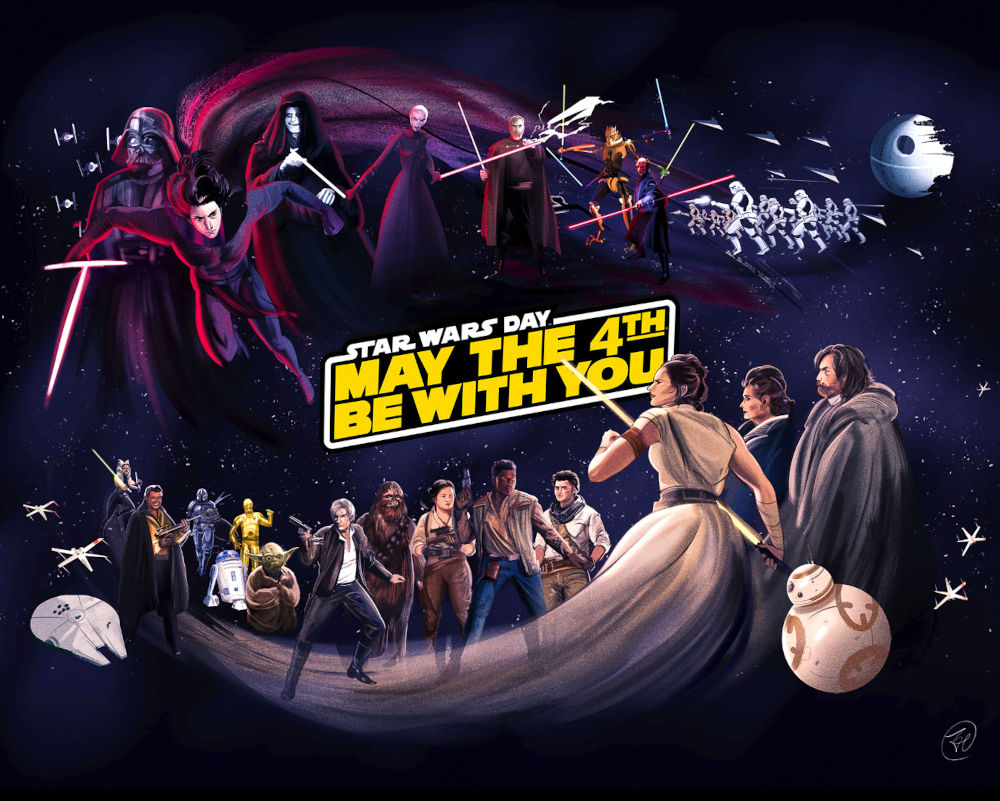 And yes, I got great exposure, new followers, and even more work through it, but I also got a lot of hardcore Star Wars fans that stormed in my DMs with a bunch of criticisms and questions that gave me quite a chuckle ("Why did you put Rose in it and not Obi-Wan? I wanted to see Obi-Wan!," "Did you draw Rey and Kylo like that because you ship Reylo?," "Ummm you made BB-8's head too small :/"…)
I'm now at a point in my life where I can look at comments like these and laugh it off because I think it's incredibly dangerous for artists to take criticisms personally, especially if you do artwork that often gets shown to the masses worldwide.
Apart from that, I have to say that doing that commission has been one of the greatest honors I've received so far, and the Lucasfilm team has been a gem to work with.
What are some important things to keep in mind for people who want to freelance successfully in this field?
Your network is crucial. I don't think I'm even halfway where I want to be in terms of artistic skill, but I know that I have put a lot of time and effort into getting in touch with the art community and just generally getting to know my fellow peers in this industry better.
Especially as a freelancer, I know I don't just get jobs because of my reputation or agency. Getting recommended by peers and building a presence on social media are both things that have helped tremendously.
Unfortunately, this is one of those things that people don't want to hear—especially since many of us artists are quite introverted and shy around others. I say this from experience, as I struggled a lot with social anxiety and was always a wallflower in large gatherings.
The good news is that networking and social skills are things that anyone can learn with enough effort and time put into it—just like art.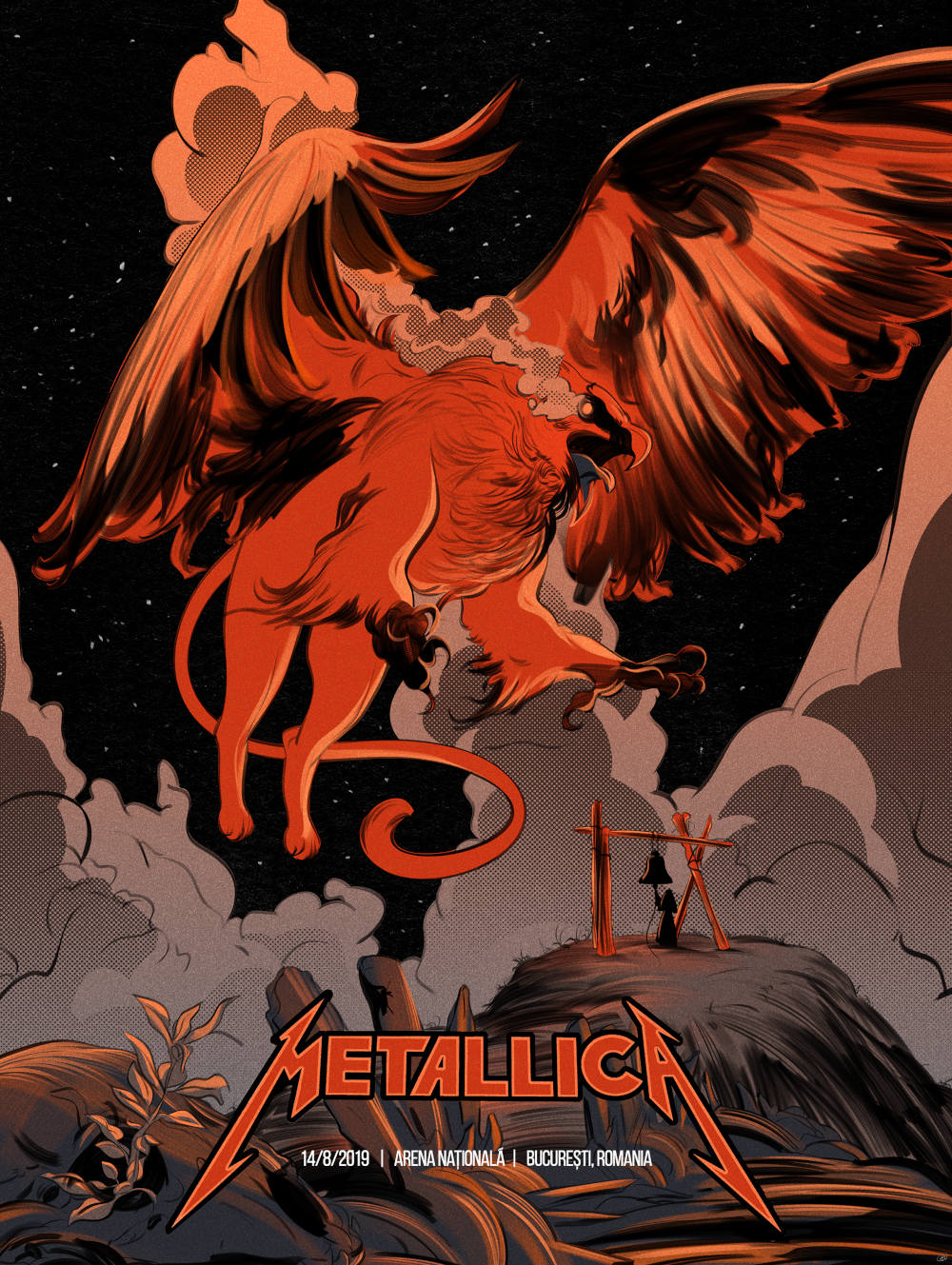 Do you have any resources that help you improve now or ones that were useful when you were still studying at MICA? It could be books, websites, or even YouTube channels. Let's see if we can get a little list going for today's students!
For watching films: a website that helped me a lot in accessing old movies is Kanopy. It's free for a ton of libraries in the US if you have a library card (I believe you can just ask your local library or check on the site to see which libraries are registered with it). A lot of colleges and universities have it as well.
For finding art references: definitely Pinterest. Before starting any illustration, I usually make a mood board filled with other artists' works, photography, etc. Keeping mood boards filled with inspiration has been crucial to my growth as an artist.
And lastly, for finding the motivation to do art when you're feeling down: two art Youtubers I watch regularly are Adam Duff/LUCIDPIXUL and ErgoJosh . They've both got a lot of great art talks that deal with the mental blocks of being an artist, and whenever I watch one, I always come away feeling inspired to draw and improve. They also do a lot of tablet/art program reviews, which will definitely be helpful for artists looking to change their setup or beginner artists looking for the right tool for them.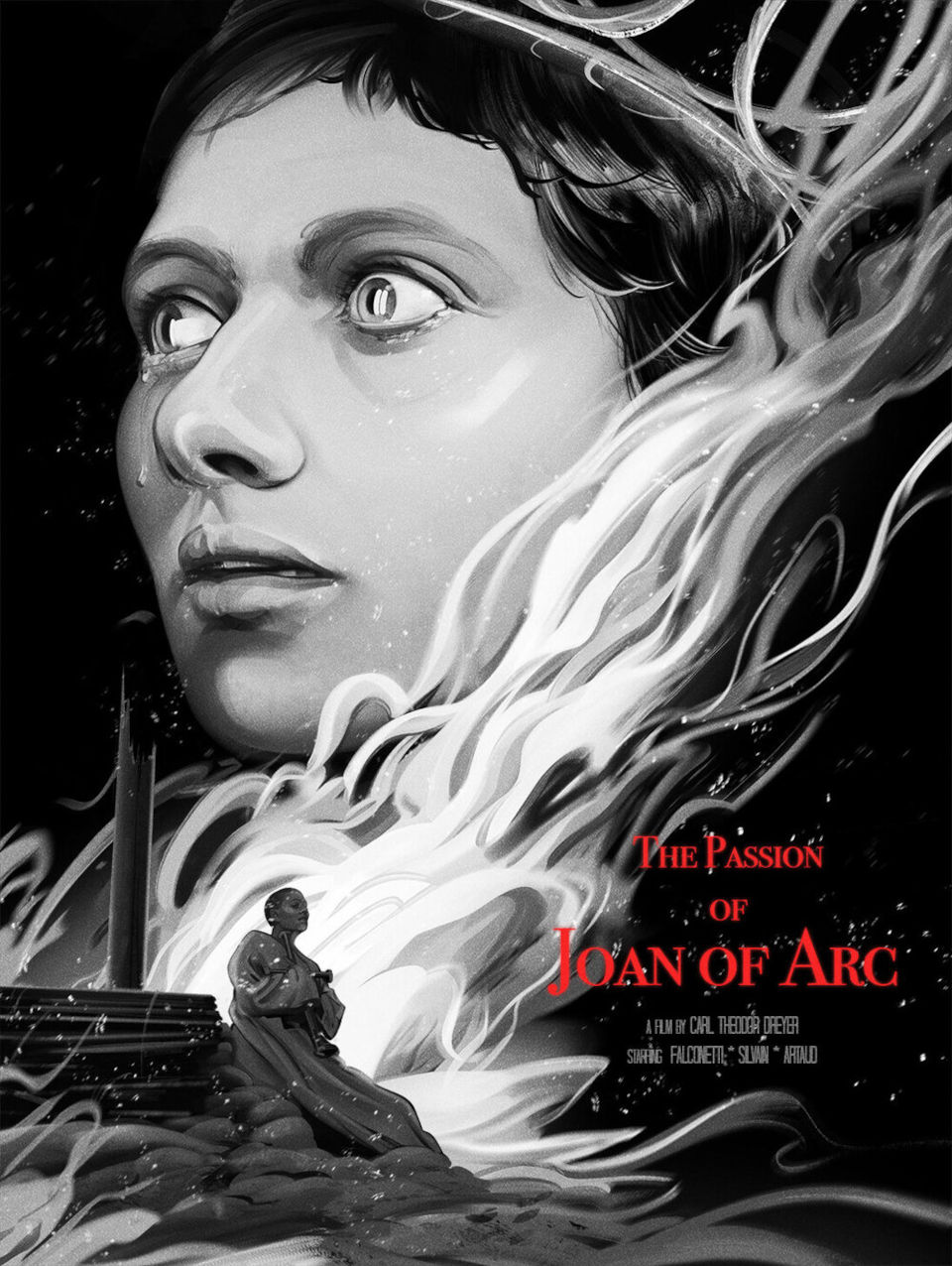 What are your favorite little-known movies?
I really like French crime cinema from the 1960s. I got into it after watching Jean-Pierre Melville's trilogy starring Alain Delon… Le Samouraï, Le Cercle Rouge, and Un Flic… old French and Italian movies are super stylish and make great inspiration for illustrators who love that era.
There's also Japanese and Hong Kong cinema. Both are a must-see for cinematography and fashion inspiration!
I love going for a classy vibe with a lot of my pieces, and watching these just puts me in the right mood.
What's next for Zi Xu?
Creating art for IPs is fun and all, but ultimately it's work for other people. I've never realized that more strongly than this year when I got to work with a bunch of my dream clients. There's this feeling of "oh wow, I've achieved this really cool thing!" that lasts for a few days/weeks, and then it's back to the daily grind. Other people's perceptions of you may change based on what you've done/who you've worked for, but you feel the same.
Because of this, I want to create artwork that rings true to myself—I've already started working on a bunch of new personal paintings recently, and they've really rejuvenated me creatively because they're all based on my own creative vision.
I think that no matter where I end up in life, it's important for me to remember why I'm making art in the first place and to express myself genuinely in my work.
---
If you enjoy Zi's work, consider visiting her website or following her on Twitter .